(Te) gekke planten in bijzondere vormen & texturen
Een plantenstijlgids om deze lente en zomer helemaal mee te zijn? Die kan je niet links laten liggen! De Trend Collectie van 'Mooi wat planten doen' ontrafelt de hipste planten van het moment met de meest uitgesproken vormen.
Grillig en groot, piepklein en geaderd, glanzend groen en mat grijs, puntig of juist zacht afgerond. Ook planten mogen dit seizoen in een extreme combinatie van vormen, kleuren en texturen worden gestyled. Hangend in de lucht, groeiend uit de vloer of in groepjes bij elkaar in crazy potten. Alles mag!
Een overdadige mini-jungle rijst op uit de vloer…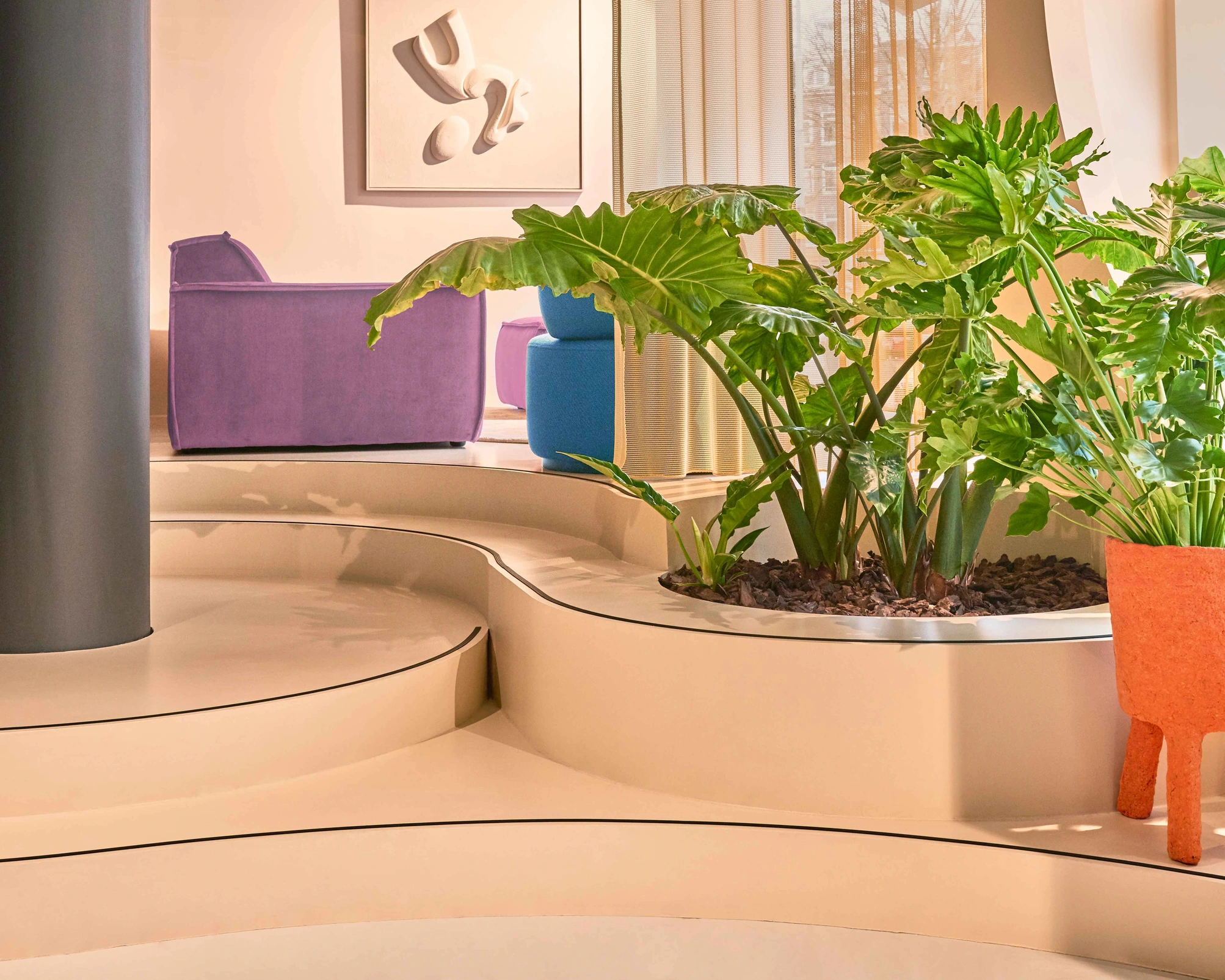 Planten: PHILODENDRON NARROW ESCAPE BUSH, PHILODENDRON BIPINNATIFIDUM SHANGRI-LA, ALOCASIA
Paper planter oranje Teun Zwets, fauteuil Fest, kunst stone paint on wood Atelier de Rijk
---
Stylen met uitgesproken kleuren vraagt om de perfecte balans.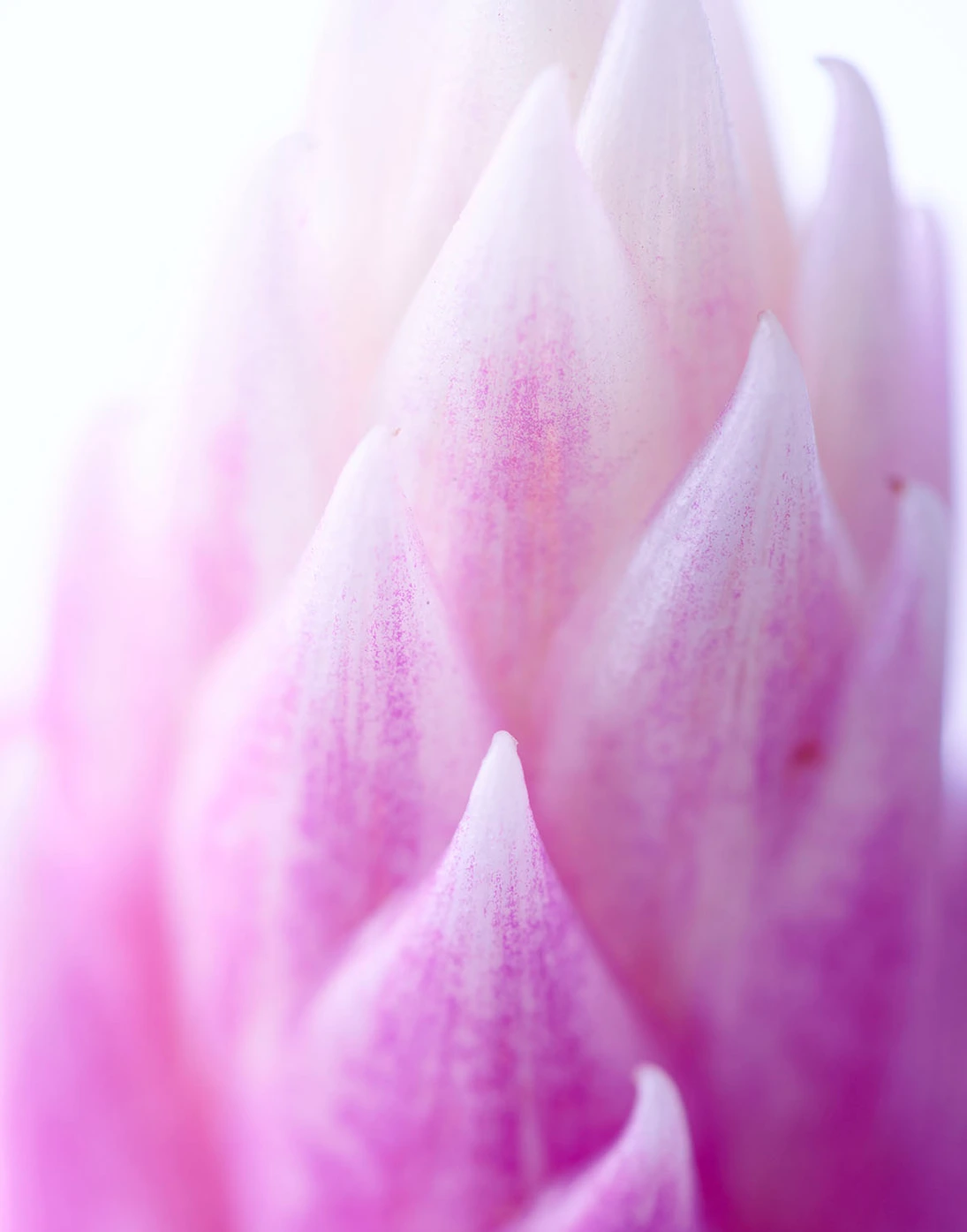 ---
Plantenpotjes als verrukkelijk geglazuurde gebakjes – Playful plantenpotten Teun Zwets
---
Hypoestes & mozaïekplantje
---
Betoverend; bloeiende planten met een silhouet van trendy boogvormen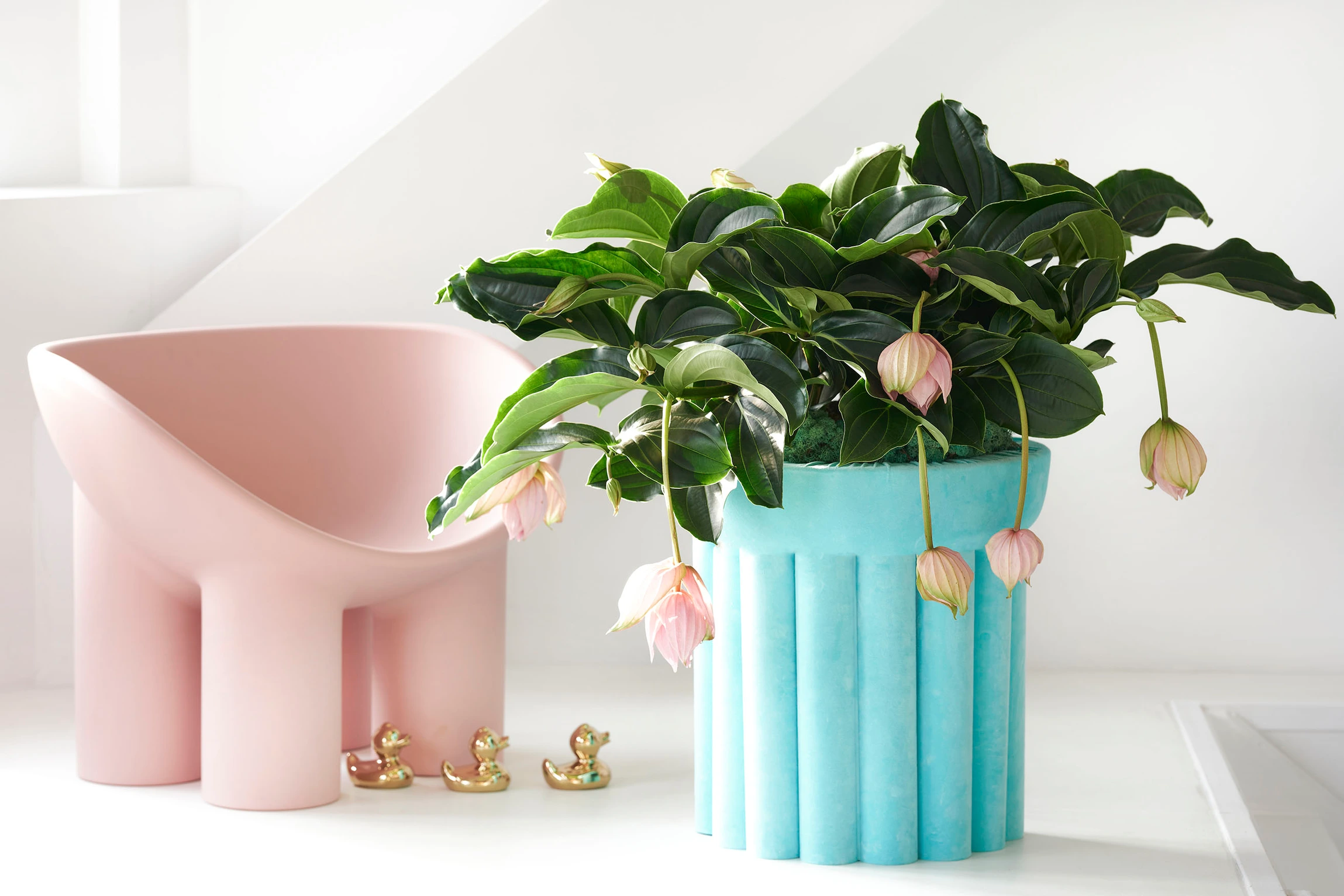 MEDINILLA DOLCE VITA
Roze stoel Driade Roly Poly Fauteuil, eendjes Heinen Blauw, plantenpot creatie Klim Produktions
---
De natuurlijke, tropische schoonheid van uitgesproken bloeiers in een wonderlijke match met vrolijke vormentaal in alle kleuren van de regenboog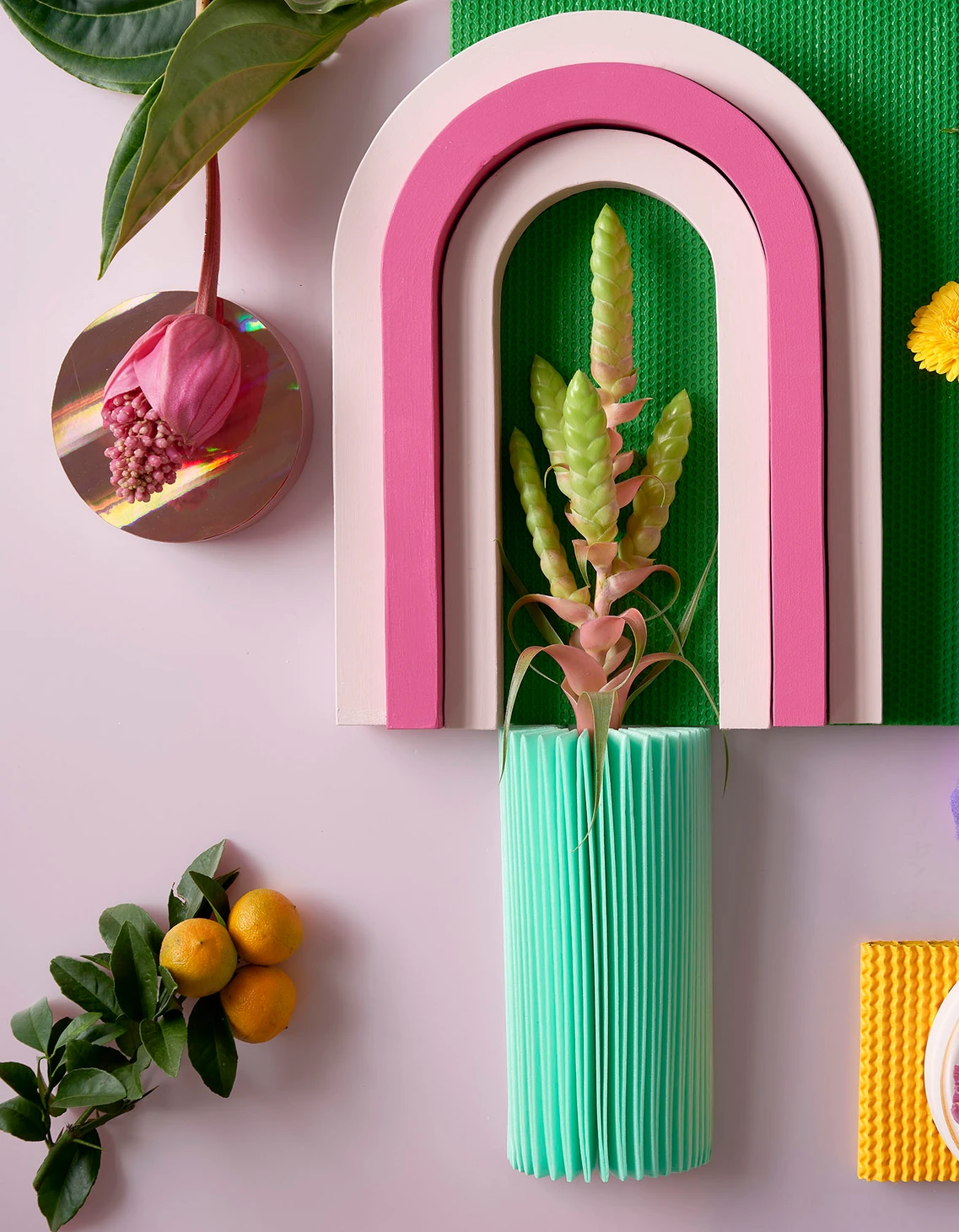 BROMELIA TIILANDSIA LEIBOLDANIA MORA & MEDINILLA DOLCE VITA & CITRUS MICROCARPA CALAMODIN
---
Hang het (beest) uit! En speel met kleur en vormen
BROMELIA, TILLANDSIA ANDREUS, CALLA ZANTEDESCHIA AETHIOPICA, MEDINILLA MAGNIFICA, RHIPSALIS BACCIFERA 'OASIS', RHIPSALIS BACCIFERA SUBSP. HORRIDA, PHILODENDRON IMPERIAL RED', FITTONIA 'MOSAIC PINK FOREST FLAM', IJSLANDS MOS
Kamerscherm en bijzetkrukje Pols Potten, Lamp uhuh Moooi
---
Anderhalve meter bubbel voor planten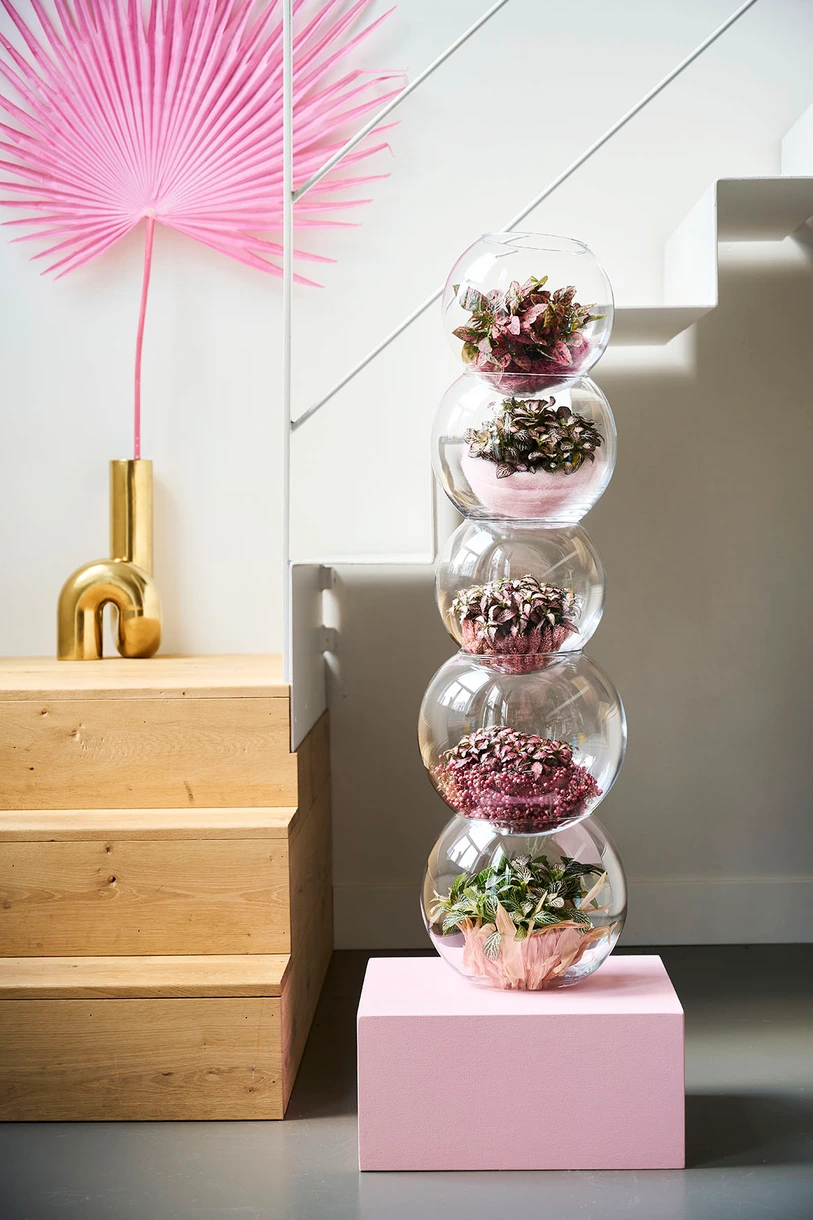 HYPOESTES PHYLLOSTACHYA MIX
Gouden vaas en roze blad Pols Potten
---
Plantenstyling verheven tot kunstvorm; van zo'n stijlvol boeket gemaakt van verschillende bloeiende planten kun je maandenlang genieten.
BROMELIA TILLANDSIA SAMANTHA, BROMELIA TILLANDSIA SIYNEA ANITA, PAMPASGRAS ROZE GEVERFD, BROMELIA ANANAS MIAMIGO, BROMELIA CATOPSIS MORRENIANA, GEMBERBLOEMEN
Monsterablad namaak Barbra de Bode, gouden bloempot Pottery Pots, roze plateau Ceramic feeld, Benjamin Graindorge
---
Let it grow…
De Rhipsalis heeft veel verschillende verschijningen, van rond, dun en stekelig tot plat en vertakkend, van gifgroen tot warm rood
RHIPSALIS BACCIFERA OASIS
 
---
Oogstrelende perfectie; het gestapelde boeket steelt de show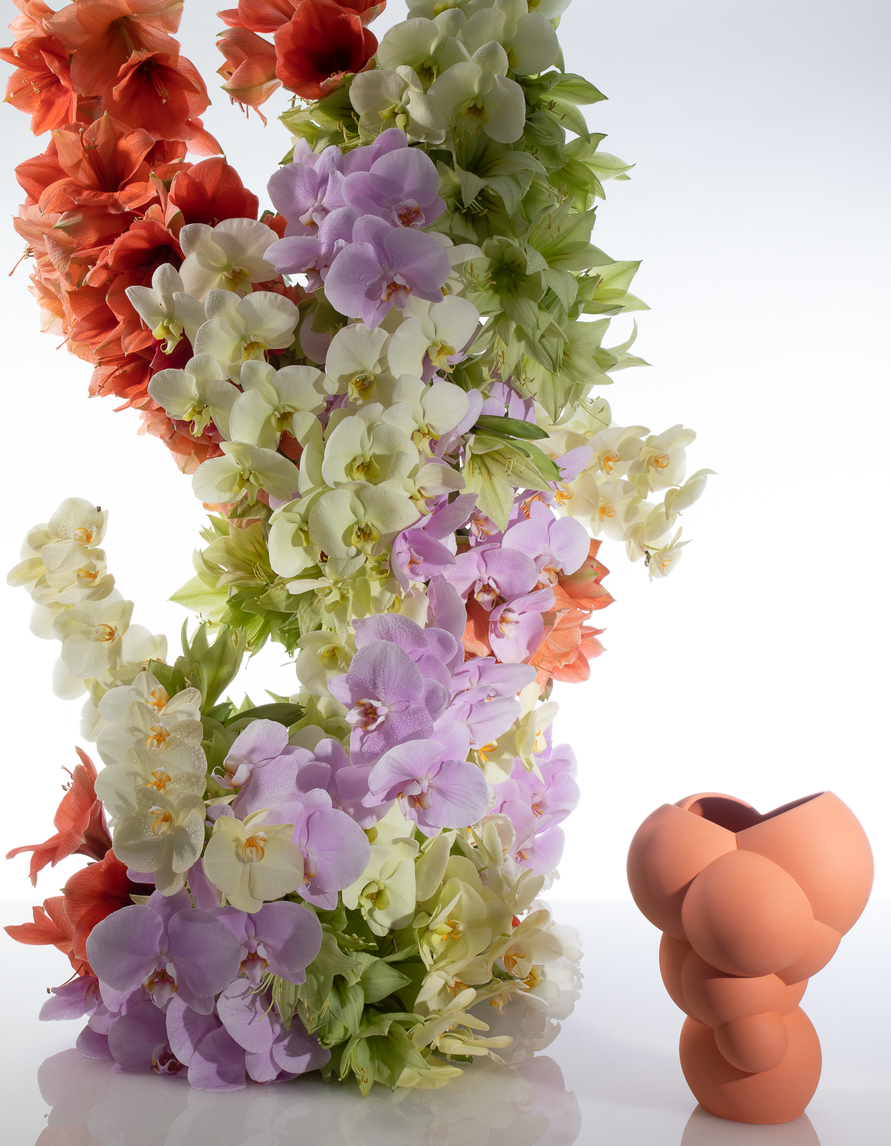 Bloemen Ruby Mary Lennox @ruby_marylennox
Fotograaf
Antje Peters @antjepetersstustustudio
---
Tekst & foto's : uit de Trend Collectie van mooiwatplantendoen.nl